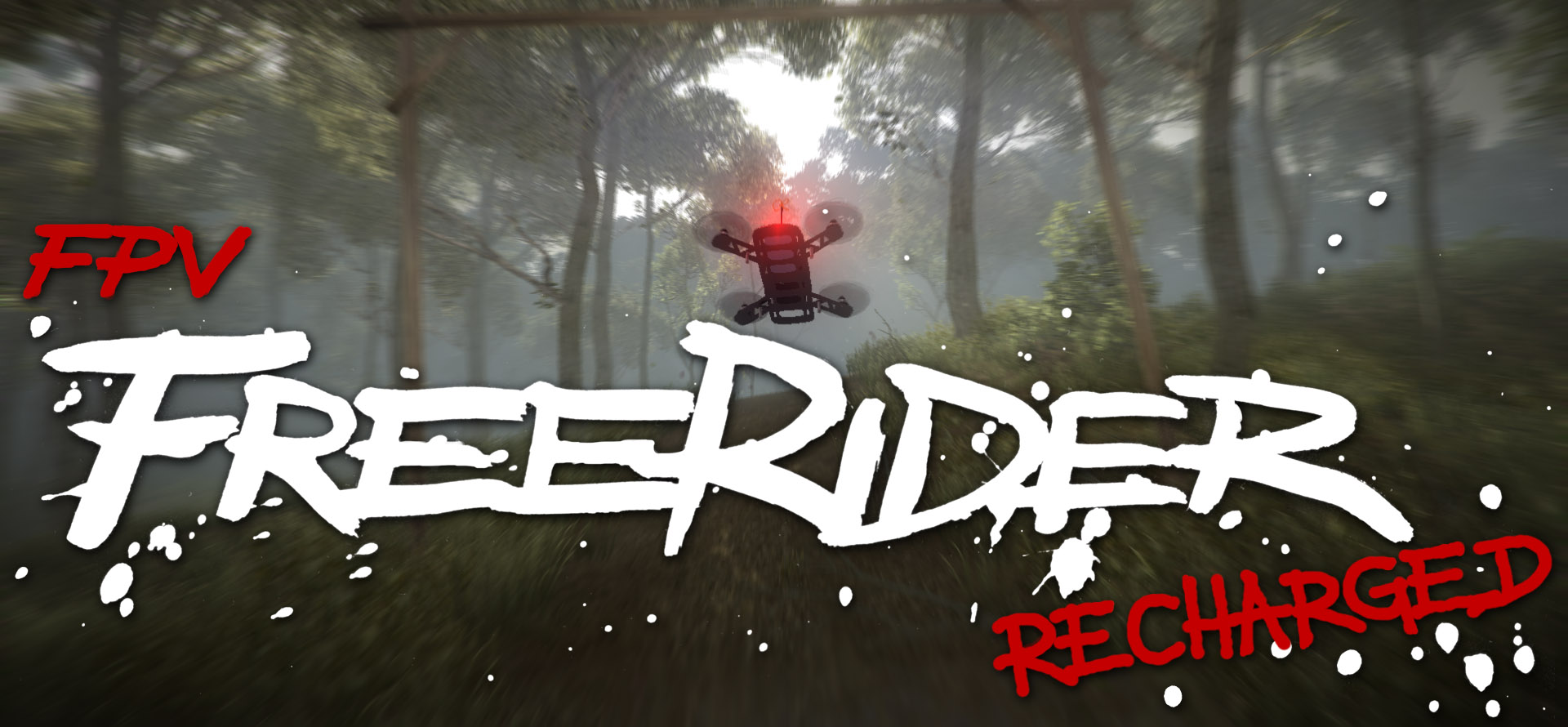 FPV Freerider Recharged
A downloadable game for Windows, macOS, and Linux
RC Quadcopter Racing Simulator
Features LOS (line of sight) and FPV (first person view) flying.

Includes self-leveling and acro mode. 3D flight mode (negative thrust/inverted flying) is also available in the full version.

Supports mode 1,2,3 and 4.

Ability to adjust settings for input rates, camera and physics.
Nine sceneries included (four of which are loaded through the level editor), and more available as DLC.
There is also the full level editor included which enables you to create and share your own sceneries and tracks.
It is highly recommended to use a USB controller/RC radio*
You can find more information on how to get your controller connected in the manual.

FPV Freerider User Manual (PDF)

This is the deluxe version of FPV Freerider. It is focused on bigger and more detailed sceneries.
You need a pretty powerful computer for the simulator to run smoothly. If necessary you can run it at lower resolution in order to get better framerate (using command line parameters as described in the manual). If you have any doubts whether it will work on your setup, please try the free demo version first.

The demo contains only one scenery, has a limited amount of features and options and a quad with deliberately rather sluggish settings. In the full version you can tune the settings freely to your liking.

* Controllers that have been succesfully used include FrSKY Taranis, Spektrum, Devo, DJI FPV, Turnigy, Flysky, Jumper, Radiomaster, Eachine, Detrum, Graupner and Futaba RC radios, Realflight and Esky USB Controllers, Logitech, Xbox and Playstation gamepads. Please try the free demo version to see if it will work with your controller.


Here's a few tips on how to set up your Spektrum transmitter to work with the simulator:

3D mode is selected using the flight mode button on the top left (Self-leveling - Acro - 3D)
To arm the throttle control in 3D mode, put the throttle stick above middle. You will have positive thrust above middle stick and negative thrust below.
Note: The Linux version is highly experimental and will only work on some distributions, please try the free version first.
-----

Recent changelog:
2021-03-26:
Completely reworked the internal input system to provide better controller compatibility and easier controller calibration.
This will be most noticeable on Windows machines. Now you should no longer need to set up special endpoints for radios such as the FrSky Taranis etc.
If you have been using an older version of Freerider you will probably need to go through the Calibrate Controller procedure in the simulator again.
If you have previously needed to use a model with modified endpoints, it is now recommended to going back to using a standard default model setup.
2019-10-14:
- Cleared up some more paths and areas in the forest.
- Minor fixes
2019-02-05:
- New custom settings screen with ability to fine tune the expo curve
- Ability to choose the amount of deadzone - large, medium, small, off (in the main menu)
2018-11-21
- Level editor (create your own sceneries and tracks)
- Completely new Self-Leveling mode (Angle mode - set maximum tilt angle)
- Rates showing as degrees per second on the custom settings screen
- Adjusted the Preset rate values
- Yaw now also has expo
- Four expo curves in total (Expo1, 2, 3 and Linear)
- Square gimbals on the touchscreen controls (meaning full stick throw in all directions)
- Changes to the flight sound
- Optimized the Factory level a bit
- Hotkeys for flightmode: U,I,O (Self-Leveling/Acro/3D)
- Groundeffect simulation
2018-04-18

There is now a pack of 10 extra custom levels available for this simulator!
Note: Freerider is known to not work with the Intel(R) G45/G43 Express Chipset

Also check out FPV Freerider Classic. It has other sceneries included, some of which are simpler and more suitable to slower computers.

| | |
| --- | --- |
| Status | Released |
| Platforms | Windows, macOS, Linux |
| Rating | |
| Author | FPV Freerider |
| Genre | Simulation |
| Tags | drone, Flight, fpv, miniquad, multicopter, multirotor, quadcopter, quadrocopter, rc, simulator |
Purchase
In order to download this game you must purchase it at or above the minimum price of $9.99 USD. You will get access to the following files:
FPV Freerider Recharged (Windows, latest build)
552 MB
FPV Freerider Recharged (MacOS, latest build)
575 MB
FPV Freerider Recharged (Linux, latest build, experimental)
561 MB
Also available on

Download demo